Pathways Into Science: Twinkl and ADEA Celebrate International Day of Women and Girls in Science 2021
Enjoy the blog and have a look at the Q/A with Mary Sichangi, Coordinator for the Inter-Country Quality Node on Mathematics and Science Education (ICQN-MSE) of the Association for the Development of Education in Africa (ADEA).
Original blog published by Twinkl
Published on Thursday, 11 February 2021
11th of February marks the International Day of Women and Girls in Science.
Implemented by UNESCO and UN-Women in collaboration institutions and civil society partners, February 11th is a day of celebration aiming to promote women and girls in science. This day is an opportunity to promote full and equal access to and participation in science for women and girls. At Twinkl, as part of our ongoing commitment to the Learn. Educate. Change initiative, we're celebrating by showcasing some lives and careers of inspirational women in science from all over the world.
From improving health to combating climate change, throughout the ages, the pathways of women and girls in science have been vital in providing footsteps to follow in so that we might change how we view the world around us and better understand what makes ourselves and our planet tick. 
The impact of women in science is inspiring, take a look at some of our bios on famous female scientists throughout the ages:
All over the globe right at this moment, women are doing fantastic research in scientific fields to help us understand the world around us. Here are a few amazing women we were lucky enough to get to interview all about their career paths. Take a look at their inspirations, their stories and their tips for girls to take the first steps on their own pathways into science! 
Table of Contents
Roula Inglesi-Lotz, Professor of Economics at University of Pretoria and representative of South African Young Academy of Science: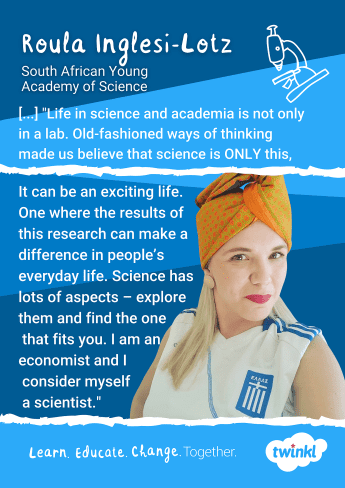 What or who was your inspiration to start your pathway into the sciences?
"Real-world phenomena intrigued my inner curiosity to explain them and what better way than learn more within scientific research? While I was busy with my Master's research on trying to understand how technology explains economic growth, South Africa experienced its first electricity power cuts in 2008/2009, and I wanted to find out what was the reason behind them from an economic perspective. In short, real-world challenges became an inspiration for research opportunities. As to who was the inspiration? Initially, my supervisors and mentors that showed me that it can be done and that believed in me."
Talk about your career path and how you got to where you are today. Were there any surprises along the way?
"After finishing my undergraduate studies in Greece, I came to South Africa for my Masters and Doctorate studies in Economics. The first year of my postgraduate studies was tough: being in a foreign country, I had to study in another language and a very different education system. I thought of giving up many times, but I didn't – I had the support of my family and good friends around me (and my stubbornness). By the end of my Masters, I was working as a tutor and academia had earned me as a career option. 
Exploring the literature, the excitement of finding results in my research questions, discussing them with my supervisor and colleagues and just the idea that this is going to be what I will do for the rest of my life brought a thrill in my everyday routine. As a PhD student, of course, I had my ups and my downs. Who doesn't?
And then, (fast-forward…) I got employed at the University of Pretoria (for more one can read at my CV…) Until the point that my turn came to start supervising and mentoring young students in economics. That is where my passion in creating the new generation of economists come in place; in giving them not only the academic knowledge but also teaching them the critical thinking, the confidence to challenge the status quo, the foundations to create a new world that is more equal for all."
What tips would you give to girls looking to follow in your footsteps?
"Life in science and academia is not only in a lab. Old-fashioned ways of thinking made us believe that science is ONLY this, but it can be an exciting life. One where the results of this research can make a difference in people's everyday life. Science has lots of aspects – explore them and find the one that fits you. I am an economist and I consider myself a scientist. 
Looking back at what I have done in my career thus far, I never thought not even once that I am a woman so I can't do so. I never did that to myself first and hence I did not allow anyone else to do that to me either. I never put social dilemmas in front of me such as "do I want to be a mother or do I want to have a career?". I thought of how to convince the society that both can be done. 
Be curious and see challenges as opportunities. This takes time and practice. As a PhD student, everything felt difficult and challenging; but with the "fake it till you make it" and "one positive for every negative thought" attitude at some point things change. 
As women and girls in science, we see that there is a lack of our perspective in our circles. Instead of sitting back and accepting this as a fact, we should realise that we have a greater responsibility to be present and showcase our successes and be the role models for the younger generations.
Surround yourselves with people that do not see limits and boundaries but opportunities. Involve in groups that promote women and youth in science; expand your networks and your horizons, learn even from areas that you always thought you are not interested in. Be open-minded!"
Mary Sichangi, Coordinator for  Inter-Country Quality Node on Mathematics and Science Education (ICQN-MSE) of the Association for the Development of Education in Africa (ADEA):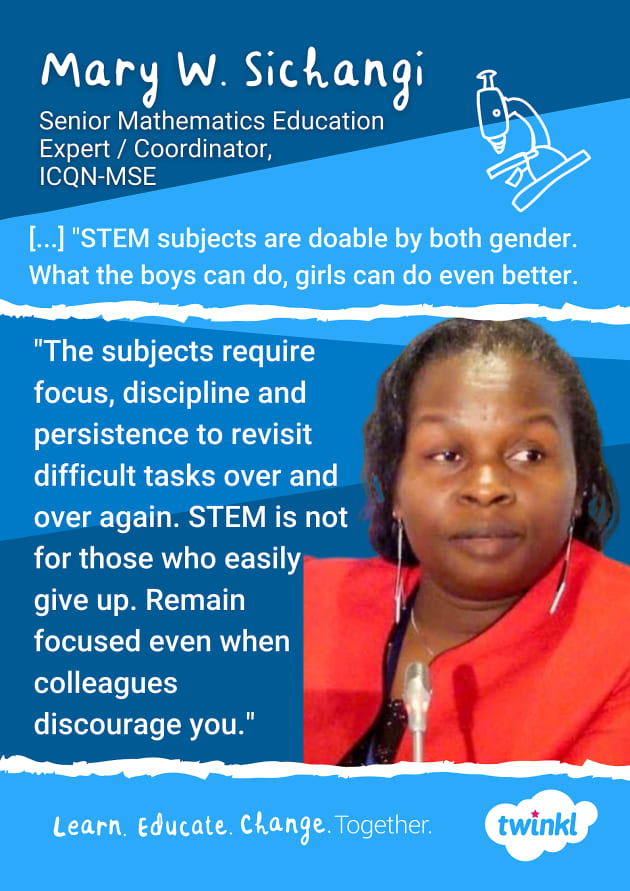 What or who was your inspiration to start your pathway into the sciences?
"I began school in some rural primary school without much thought on what my career life will look like. In grade five I lived with my father and two of my older brothers. The question of what career path one will take came up in a discussion with each of them saying I would like to do a course with great economic returns in order to save our family from poverty. The team spirit quickly took me by surprise with the slogan, "What we boys can do, you can also do Mary" said one of my brothers. This statement remained my inspiration through high school where I faced many discouragements from classmates who indicated that Science, Technology, Engineering and Mathematics (STEM) subjects are not for girls. In line with the post-colonial times on the need to fill-up white color jobs, my brothers went on to science-based courses in tertiary institutions. In response to the slogan, "What we boys can do you can also do Mary" ruled my mind and I went on to do Bachelors of Education (Science) majoring in double mathematics."
Talk about your career path and how you got to where you are today. Were there any surprises along the way?
"I was posted to teach mathematics in a girls' school after graduating with a bachelor's degree in education. I got surprised that the content taught at the university was not the same that I was teaching the high school students. The demand to read and prepare for lessons was a challenge at the onset of my career and there were no support systems in schools. I quickly realized why learners end up with a negative attitude to mathematics and science subjects. The approach to teaching and learning these subjects contributes immensely to the decline in numbers as the learners' progress along the school years. 
My passion to teach better led me to observe a colleague's biology lesson who was an experienced teacher. The lesson helped reflect on my classroom practices and this experience led to the understanding that I needed to improve professionally. I later went on to enrol in a part-time nation-wide program for training mathematics and science teachers on innovative pedagogy. The program nominated me for a two-year Japanese funded scholarship in Hiroshima University where I researched on mathematics education and attended various conferences in South East Asian countries. The course unlocked my potential to innovative mathematics education and went on to work at the Centre for Mathematics and Science Education in Africa whose mandate is teacher professional development. Working at CEMASTEA accorded me an opportunity to train teachers nationally and internationally in approximately thirty-five (35) African countries on innovative pedagogy as well as gender-responsive teaching. 
I have participated in spearheading various STEM education projects including; the launch of Gender-Responsive STEM education that brought together educators from ten Anglophone African countries in 2016 and Francophone African countries in 2017, the launch of STEM education in Kenya and review of the curriculum to include the STEM pathway, the launch of the African Union STEM Cluster, a member of the executive committee of continental body that promotes mathematics and science education called SMASE-Africa, and the coordinator of ADEA's ICQN-MSE to promote relevant polices.
I hope to help change how these subjects are taught and in turn improve both attitudes and performance standards.  I dream of a future where youth enjoy learning STEM subjects encouraged by teachers that innovatively teach and equip them for the 21st century living. Leadership that creates an inviting school climate, attractive extra-curricular activities such as science parks and clubs, rewarding innovations and creativity, facilitating implementations of incubator projects and mentorship programs towards STEM for Development (STEM4D) and social good."
What tips would you give to girls looking to follow in your footsteps?
"STEM subjects are doable by both gender. What the boys can do, girls can do even better. The subjects require focus, discipline and persistence to revisit difficult tasks over and over again. STEM subjects are not for those who easily give up, remain focused even when colleagues discourage you. STEM education in Africa is under construction and the foundations we are laying will require sustainability. The opportunities in STEM-based careers have grown three times the rate of non-STEM jobs in the last decade. 2.4 million STEM-related jobs will go unfilled, (Smithsonian Science Education Center). Girls take up the challenge and enrol in STEM-based jobs such as plumbing service."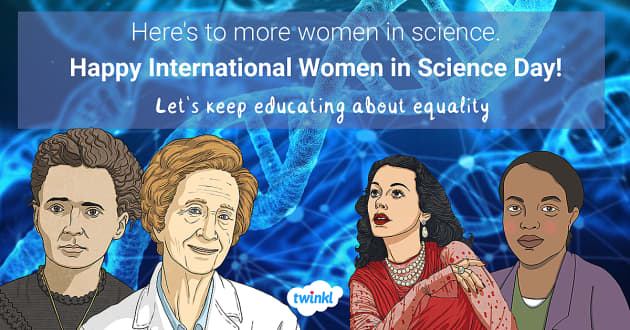 Were you inspired? Twinkl has a wide range of resources to help ignite that spark of scientific inspiration! Check out some of our favourites below and take your first steps on the pathway into science to join these amazing women in changing the world!
Happy International Day of Women and Girls in Science from us at Twinkl to you! Remember to stay curious and keep experimenting - anything is possible!